Product description
The Klarstein Beersafe XXL is a compact fridge with a capacity of 2.9 cft.
Equipped with three chrome-plated, removable drawers made of metal – this cooler offers space for bottles and cans.
The Klarstein Cooler keeps beverages fresh without blocking an installation site like a regular fridge. Due to its leight weight you can simply place the device at a different location such as the bar area, in the garden or whereever cold drinks and small snacks are needed. The beersafe XXL transforms every refreshing content to a cool temperature of up to 41–50 °F.
The compact device harmonizes with various living spaces and every interior style. Regardless of kitchen and living room – the Klarstein Beersafe XXL radiates a tasteful atmosphere thanks to the connectible inner lighting.
The cooling service of the Klarstein Beersafe XXL is rendered through its highly eco-friendly and power saving working efficiency and a very low operational sound. This is not only easy on your wallet but also on your nerves.
Top Features
Compact fridge with 2.9 cft capacity for storing bottles and cans
Three removable, chromed metal drawers and connectible LED interior lighting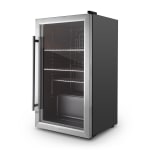 5-level controlable temperature regulator
Quiet in operation, easy to clean and energy-efficient
Black casing with stainless steel door and stainless steel handle as well as double-isolated panorama glass
Properties & dimensions
Two height-adjustable standing feet
Stores up to 106 Cans
Variably mountable drawers
Coolant: R600a
Power supply: AC 115 V / 60 Hz
Exterior dimensions: approx. 18.8 x 32.7 x 18.9 inch (WxHxD)
Interior dimensions: approx. 15.8 x 28.6 x 13.0 inch (WxHxD)
Drawer (large): 15.2 x 12.6 inch (WxD)
Drawer (small): 15.4 x 7.1 inch (WxD)
Cable length: approx. 68.9"
Weight: approx. 66.1 lb
Delivery & shipment
What will be delivered
1 x device
English manual (other languages: Spanish)