Bella Rossa Kitchen Machine
Red
, 17.6 Pound
, 650 watt
buy on Amazon
Product description
Quality is known to come by skill. How good to know having such an all-rounder at your side. Those who value quality during the preparation of their food know how important the best, fitting and perfect tool is. The KLARSTEIN kitchen machine Bella Rossa is such a treasured tool. Due to the fact that it is much faster, easier, more reliable and perfect, the food is processed and prepared just as you would expect it from a professional kitchen aid.
"The price is especially tasty for most customers!"
The many very good reviews on all online platforms, the outstanding test results and the consistently positive customer videos about the Bella Rossa can impossibly be wrong. Here not only does someone keep what he promises, but even outperforms the expectations. It is the incredible price-performance ratio that outshines everything else.
"Knowing a real professional by your side makes cooking better."
Maybe it is simply too cheap for some and they can not believe what is said in the many reviews. But that is the reason why we can not make the product more expensive. We stick to it: really good is something, when also the price is really good.
"Simple, fast and robust - the SUV among all kitchen machines"
Via the quick-release system, the kitchen machine changes its position in next to no time. While you were recently kneading the pizza dough with the dispersing hook, you can now have a stirring machine for stirring the tomato soup. And immediately, the egg beater can be used for the preparation of the dessert. One is not only bowled over by the diversity, but also the back and forth is impressive itself.
"6 power level that always got the right hang"
Kneading, pureeing, beating, stirring, mixing ... the skilled chef knows that each process has its own speed and particular intensity. That is why there are 6 power levels that are suitable for every preparation process. 6 different speeds are doing exactly what they are supposed to do.
"Up to 5.5 qt capacity, can take really good care of 2 quarts of dough."
The bowl holds a total of 5.5 quarts and is made from stainless steel. Thus, a dough mass of 2 quarts can be processed easily. The design and color diversity is based on the functions, but also takes into account that it should find its place in modern and young kitchens where people like to cook, eat, celebrate and dance. In a good kitchen, hell can break loose at any time. The kitchen is always the place where everything usually starts and a long evening comes to an end. Therefore, it is ideal for people who do not hide in a kitchen, but also make cooking to the center of life.
"Variety in form, color and function, for everybody who uses the kitchen not only for cooking, but also as a living space."
Available colors: Bella Rossa - Red, Bella Argentea - Silver (Article 10005316)
Top Features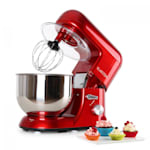 Quiet, extremely powerful kitchen-/kneading machine with 1200 Watt max. (1,6 HP)
Manually adjustable 6-stage operating speed and various attachments
5.5 qt bowl made from stainless steel for max. 2 quarts of dough
Quick-action chuck for easy and quick tool fitting
Improved mixing results due to the planetary stirring system
Properties & dimensions
Diecasting stirring hook - even mixing of larger quantities of dough
Diecasting kneading hook - for heavy doughs such as yeast or bread dough
Eggbeater for fluffy masses like beaten egg whites or biscuit dough
Safety switching
Unlocking mechanism for multi-function arm - folding upwards for light attachment and bowl handling
Robust special gearing - constant performance due to load-dependent electronic speed control
Secure stand due to suction feet
Power supply: 120V, 60Hz
Measurement: approx. 15.4 x 14.2 x 9.1 in (WxHxD)
Weight: approx. 17.6 lbs
Delivery & shipment
What will be delivered
1 x bowl made from stainless steel
1 x kneading hook
1 x stirring hook
1 x eggbeater
Manual in English (other languages: Spanish)